We welcome Prof. Dr. Susana Minguet to our Institute!Edith Ams, 18th July 2023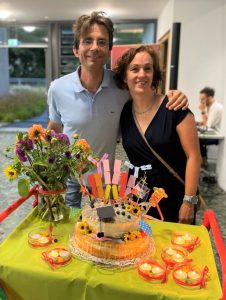 Prof. Dr. Susana Minguet is an accomplished scientist and immunologist whose research focuses on the activation of T- and B-lymphocytes. Her work aims to enhance the understanding of T-cell activation and develop translational and synthetic applications to improve T-cell immunotherapies against cancer. With an impressive academic background and extensive experience in various research institutions, Prof. Dr. Minguet has made significant contributions to the field of immunology and we are very happy to welcome her now officially to our Institute.
Career Highlights:
Prof. Dr. Minguet obtained her Ph.D. in Biochemistry and Molecular Biology from the Universidad Autónoma de Madrid (UAM) in Spain, following a diploma degree in Chemistry (Biochemistry and Molecular Biology) from the same institution.
She pursued postdoctoral research at the Max Planck Institute for Immunobiology and Epigenetics in Freiburg from 2003 to 2007. Prof. Dr. Minguet worked then as a Ramón & Cajal Fellow at the Centro Nacional de Investigaciones Cardiovasculares Carlos III (CNIC) in Madrid, Spain, from 2008 to 2011. Since 2011, she has served as a group leader in Immunology at the Faculty of Biology, University of Freiburg, where she oversees cutting-edge research, teaches and mentors young scientists. Prof. Dr. Minguet became a member of the Center of Chronic Immunodeficiency (CCI) at the University Clinics Freiburg in 2016. Prof. Dr. Minguet has also been affiliated with the Cluster of excellence BIOSS, Centre for Biological Signalling Studies since 2017.
In 2018, she obtained her habilitation in Immunology from the Faculty of Biology at the University of Freiburg, recognizing her as an expert in the field. Since 2019, Prof. Dr. Minguet has been a member of the Cluster of Excellence CIBSS – Centre for Integrative Biological Signalling Studies, where she contributes to interdisciplinary research collaborations.
Selected Publications:
Prof. Dr. Minguet has published numerous highly regarded articles in reputable scientific journals. Some of her notable publications include:
Raute K, Strietz J, Parigiani MA, Andrieux G, Thomas OS, Kistner KM, Zintchenko M, Aichele P, Hofmann M, Zhou H, Weber W, Boerries M, Swamy M, Maurer J, Minguet S. Minguet, S. (2023). Breast Cancer Stem Cell-Derived Tumors Escape from gd T-cell Immunosurveillance In Vivo by Modulating gd T-cell Ligands. Cancer Immunol Res. 2023 May 4:OF1-OF20. doi: 10.1158/2326-6066.CIR-22-0296.
Hartl, F. A., Beck-Garcìa, E., Woessner, N. M., Flachsmann, L. J., Cárdenas, R. M. V., Brandl, S. M., . . . Minguet, S. (2020). Noncanonical binding of Lck to CD3e promotes TCR signaling and CAR function. Nature Immunology 21(8), 902-913; doi:10.1038/s41590-020-0732-3
Minguet, S.*, Klaesener, K., Schaffer, A. M., Fiala, G. J., Osteso-Ibanez, T., Raute, K., . . . Del Pozo, M. A. (2017). Caveolin-1-dependent nanoscale organization of the BCR regulates B cell tolerance. Nature Immunology 18(10), 1150-1159; doi:10.1038/ni.3813; *corresponding author
Schoenle, A., Hartl, F. A., Mentzel, J., Nöltner, T., Rauch, K. S., Prestipino, A., . . ., Minguet, S.* & Zeiser, R.* (2016). Caveolin-1 regulates TCR signal strength and regulatory T-cell differentiation into alloreactive T cells. Blood 127(15), 1930-1939; doi:10.1182/blood-2015-09-672428; *co-authorship
Swamy, M., Beck-Garcia, K., Beck-Garcia, E., Hartl, F. A., Morath, A., Yousefi, O. S., . . ., Minguet, S.* & Schamel, W. W.* (2016). A Cholesterol-Based Allostery Model of T Cell Receptor Phosphorylation. Immunity 44(5), 1091-1101; doi:10.1016/j.immuni.2016.04.011; *co-authorship
Fiala, G. J., Janowska, I., Prutek, F., Hobeika, E., Satapathy, A., Sprenger, A., . . ., Minguet, S.* & Schamel, W. W.* (2015). Kidins220/ARMS binds to the B cell antigen receptor and regulates B cell development and activation. Journal of Experimental Medicine 212(10), 1693-1708; doi:10.1084/jem.20141271; *co-authorship
Goetz, J. G.*, Minguet, S.*, Navarro-Lérida, I., Lazcano, J. J., Samaniego, R., Calvo, E., . . . Del Pozo, M. A. (2011). Biomechanical remodeling of the microenvironment by stromal caveolin-1 favors tumor invasion and metastasis. Cell 146(1), 148-163; doi:10.1016/j.cell.2011.05.040; *co-authorship
Delivery Address

Institute of Biology 3
University of Freiburg
Schänzlestraße 1
79104 Freiburg, Germany