Articles about the work in Ralf Baumeister's labKarsten Voigt, 1st August 2023
The work of the Lab of Ralf Baumeister was recently the topic in two different articles in local newspapers:
First, Kathrin Ermert from Netzwerk Südbaden looked into the century old question of why organisms age. She visited the laboratory for this purpose and had a conversation with Ralf Baumeister. The article can be downloaded from our Homepage. We thank Netzwerk Südbaden allowing us to do so.
Link to the article on our BioCloud
Second, Badische Zeitung reported about a recent work of Wenjing Qi and other people from our faculty on heat adaptation of organisms. The article can be found here.
Artikel in der badischen Zeitung
They are referring to an original announcement from the university, which can be found at the following link.
Original article from the University
Original publication:
Xu, F, Li, R., von Gromoff, E. D., Drepper, F., Knapp, B., Warscheid, B., Baumeister, R., Qi, W.: Reprogramming of the transcriptome after heat stress mediates heat hormesis in Caenorhabditis elegans, in: Nature Communications 14 (2023). DOI: https://doi.org/10.1038/s41467-023-39882-8
We welcome Prof. Dr. Susana Minguet to our Institute!Edith Ams, 18th July 2023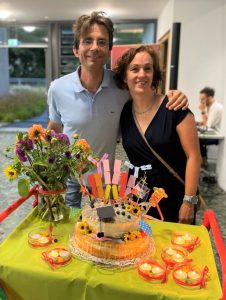 Prof. Dr. Susana Minguet is an accomplished scientist and immunologist whose research focuses on the activation of T- and B-lymphocytes. Her work aims to enhance the understanding of T-cell activation and develop translational and synthetic applications to improve T-cell immunotherapies against cancer. With an impressive academic background and extensive experience in various research institutions, Prof. Dr. Minguet has made significant contributions to the field of immunology and we are very happy to welcome her now officially to our Institute.
Career Highlights:
Prof. Dr. Minguet obtained her Ph.D. in Biochemistry and Molecular Biology from the Universidad Autónoma de Madrid (UAM) in Spain, following a diploma degree in Chemistry (Biochemistry and Molecular Biology) from the same institution.
She pursued postdoctoral research at the Max Planck Institute for Immunobiology and Epigenetics in Freiburg from 2003 to 2007. Prof. Dr. Minguet worked then as a Ramón & Cajal Fellow at the Centro Nacional de Investigaciones Cardiovasculares Carlos III (CNIC) in Madrid, Spain, from 2008 to 2011. Since 2011, she has served as a group leader in Immunology at the Faculty of Biology, University of Freiburg, where she oversees cutting-edge research, teaches and mentors young scientists. Prof. Dr. Minguet became a member of the Center of Chronic Immunodeficiency (CCI) at the University Clinics Freiburg in 2016. Prof. Dr. Minguet has also been affiliated with the Cluster of excellence BIOSS, Centre for Biological Signalling Studies since 2017.
In 2018, she obtained her habilitation in Immunology from the Faculty of Biology at the University of Freiburg, recognizing her as an expert in the field. Since 2019, Prof. Dr. Minguet has been a member of the Cluster of Excellence CIBSS – Centre for Integrative Biological Signalling Studies, where she contributes to interdisciplinary research collaborations.
Selected Publications:
Prof. Dr. Minguet has published numerous highly regarded articles in reputable scientific journals. Some of her notable publications include:
Raute K, Strietz J, Parigiani MA, Andrieux G, Thomas OS, Kistner KM, Zintchenko M, Aichele P, Hofmann M, Zhou H, Weber W, Boerries M, Swamy M, Maurer J, Minguet S. Minguet, S. (2023). Breast Cancer Stem Cell-Derived Tumors Escape from gd T-cell Immunosurveillance In Vivo by Modulating gd T-cell Ligands. Cancer Immunol Res. 2023 May 4:OF1-OF20. doi: 10.1158/2326-6066.CIR-22-0296.
Hartl, F. A., Beck-Garcìa, E., Woessner, N. M., Flachsmann, L. J., Cárdenas, R. M. V., Brandl, S. M., . . . Minguet, S. (2020). Noncanonical binding of Lck to CD3e promotes TCR signaling and CAR function. Nature Immunology 21(8), 902-913; doi:10.1038/s41590-020-0732-3
Minguet, S.*, Klaesener, K., Schaffer, A. M., Fiala, G. J., Osteso-Ibanez, T., Raute, K., . . . Del Pozo, M. A. (2017). Caveolin-1-dependent nanoscale organization of the BCR regulates B cell tolerance. Nature Immunology 18(10), 1150-1159; doi:10.1038/ni.3813; *corresponding author
Schoenle, A., Hartl, F. A., Mentzel, J., Nöltner, T., Rauch, K. S., Prestipino, A., . . ., Minguet, S.* & Zeiser, R.* (2016). Caveolin-1 regulates TCR signal strength and regulatory T-cell differentiation into alloreactive T cells. Blood 127(15), 1930-1939; doi:10.1182/blood-2015-09-672428; *co-authorship
Swamy, M., Beck-Garcia, K., Beck-Garcia, E., Hartl, F. A., Morath, A., Yousefi, O. S., . . ., Minguet, S.* & Schamel, W. W.* (2016). A Cholesterol-Based Allostery Model of T Cell Receptor Phosphorylation. Immunity 44(5), 1091-1101; doi:10.1016/j.immuni.2016.04.011; *co-authorship
Fiala, G. J., Janowska, I., Prutek, F., Hobeika, E., Satapathy, A., Sprenger, A., . . ., Minguet, S.* & Schamel, W. W.* (2015). Kidins220/ARMS binds to the B cell antigen receptor and regulates B cell development and activation. Journal of Experimental Medicine 212(10), 1693-1708; doi:10.1084/jem.20141271; *co-authorship
Goetz, J. G.*, Minguet, S.*, Navarro-Lérida, I., Lazcano, J. J., Samaniego, R., Calvo, E., . . . Del Pozo, M. A. (2011). Biomechanical remodeling of the microenvironment by stromal caveolin-1 favors tumor invasion and metastasis. Cell 146(1), 148-163; doi:10.1016/j.cell.2011.05.040; *co-authorship
BIOSS symposium this week!Karsten Voigt, 14th July 2023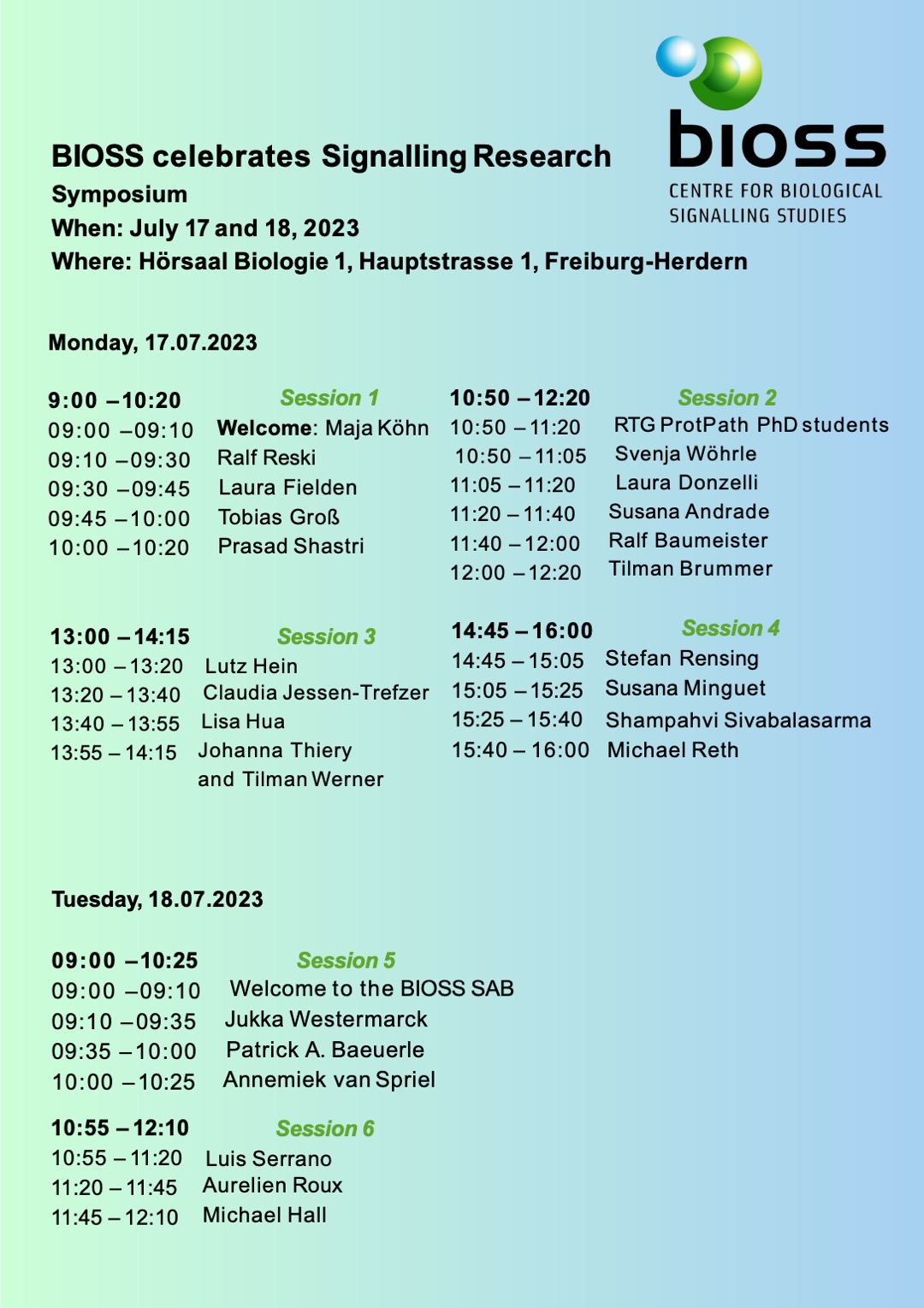 Fakultätstag 2023Karsten Voigt, 3rd July 2023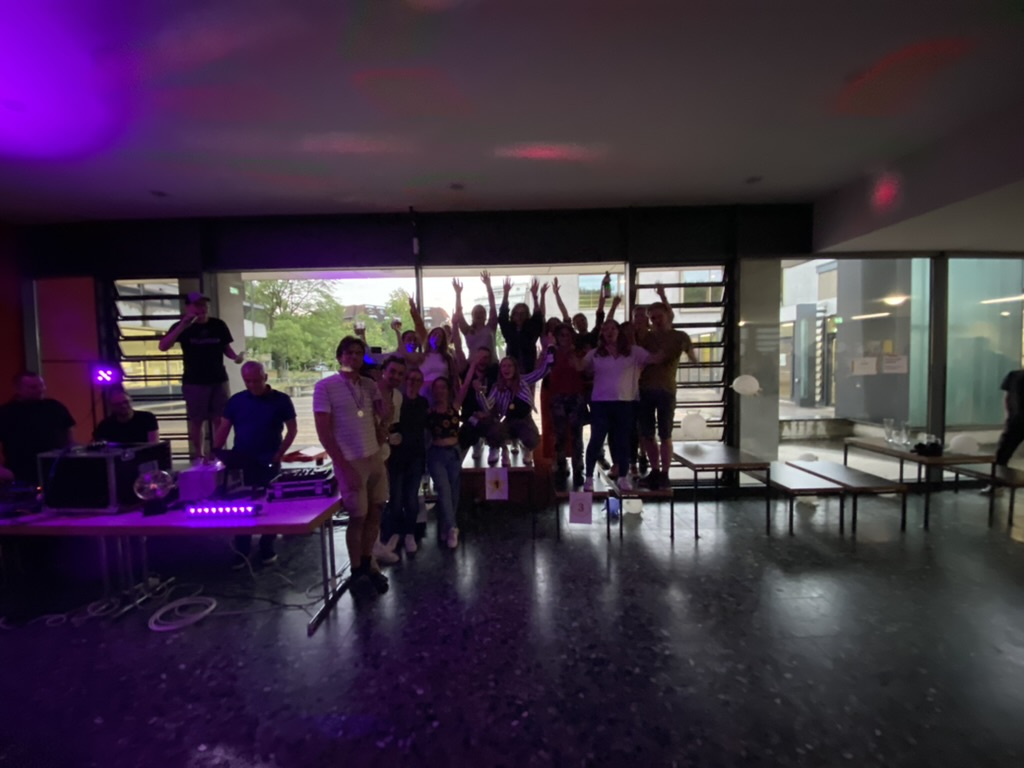 Liebe Fakultätsmitglieder der Biologie, *(English version below)*
Wir möchten uns ganz herzlich bei allen bedanken, die den Fakultätstag 2023 besucht haben! Wir hoffen, dass ihr dort genauso viel Spaß hattet wie wir vom Organisationsteam.Besonders bedanken möchten wir uns bei allen Mitarbeitern der Bio-I-II-III-Institute, die in den vergangenen Wochen mit ihrer Zeit und ihrem Einsatz dazu beigetragen haben (Workshops, Medienküche, Sekretärinnen und Hausmeister), sowie bei den DJs, allen freiwilligen Helfern und HiWis, die uns beim Fakultätstag unterstützt haben. Ohne euch hätte der Fakultätstag nicht so erfolgreich durchgeführt werden können.
Wir freuen uns darauf, euch alle im nächsten Jahr wiederzusehen und sind dankbar über jede Rückmeldung oder Anregungen, die wir gerne nächstes Jahr berücksichtigen werden.
Die Organisatoren,
Sjon Hartman, Stefan Kircher, Pablo Rios and Karsten Voigt
*————–English version*
Dear members of the Faculty of Biology,
We would like to thank all of you for coming and enjoying the Faculty Day 2023! We hope that you had a great time as we, the organizers, had.
We want to thank especially all the people from the Bio-I-II-III institutes who contributed with their time an effort during the past weeks (workshops, media kitchen, secretaries and facility managers), as well as the DJs and all the volunteers and HiWis that helped us during the faculty day. Without you the faculty day could not have successfully happened.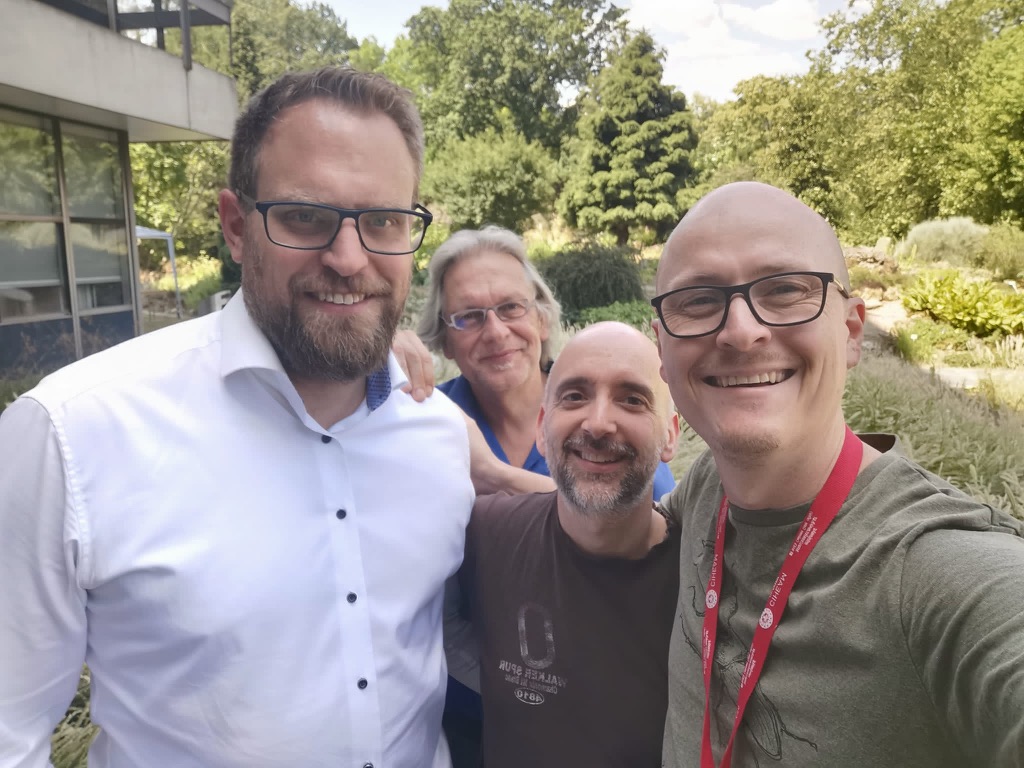 We are looking forward to see you all next year and we are happy to receive any feedback or suggestions that you might have, that can be taken into account for next year.
The organizers,
Sjon Hartman, Stefan Kircher, Pablo Rios and Karsten Voigt
Fakultätstag der BiologieKarsten Voigt, 29th June 2023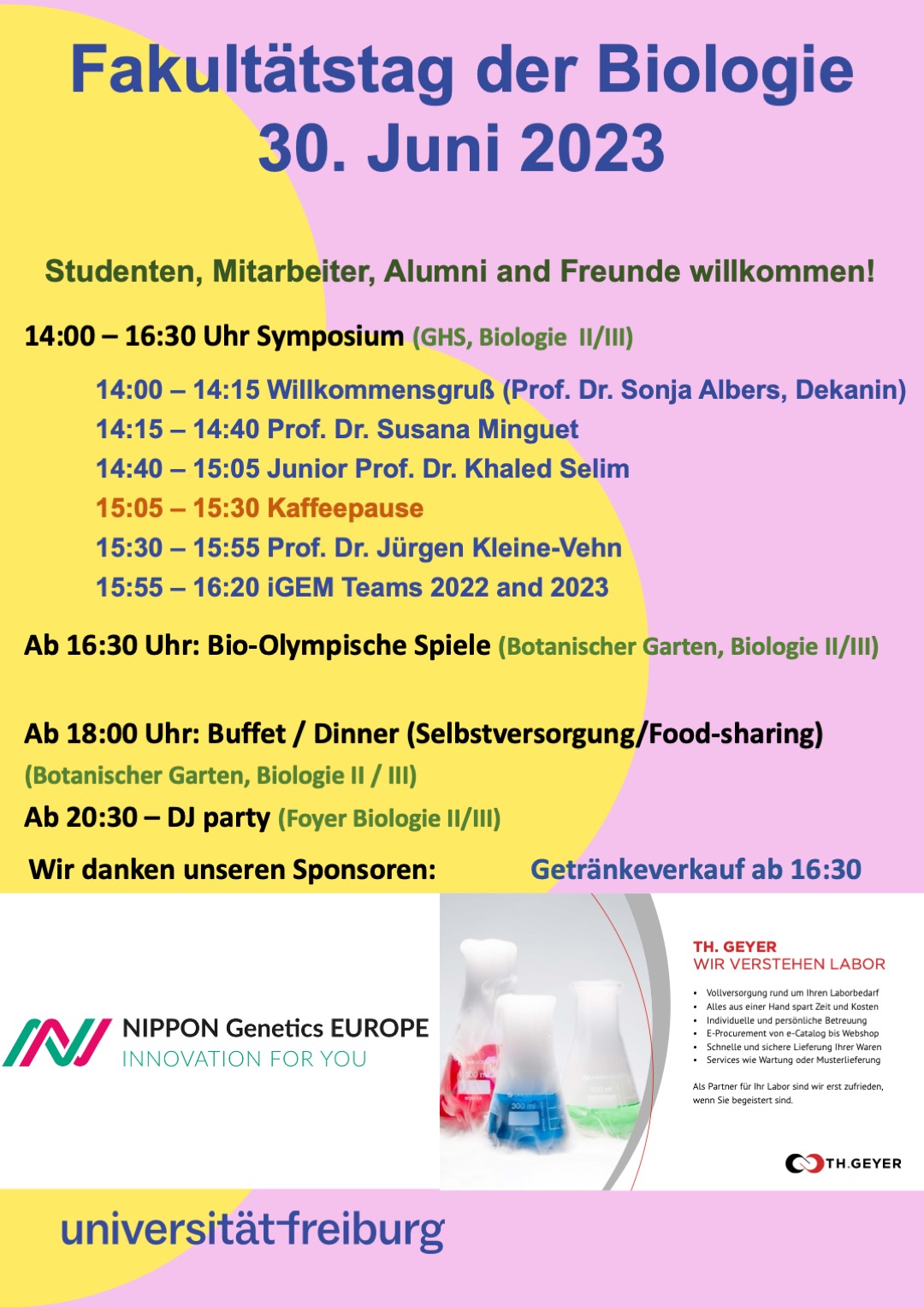 Wir gratulieren Marita Hermann zum 40-jährigen DienstjubiläumKarsten Voigt, 17th April 2023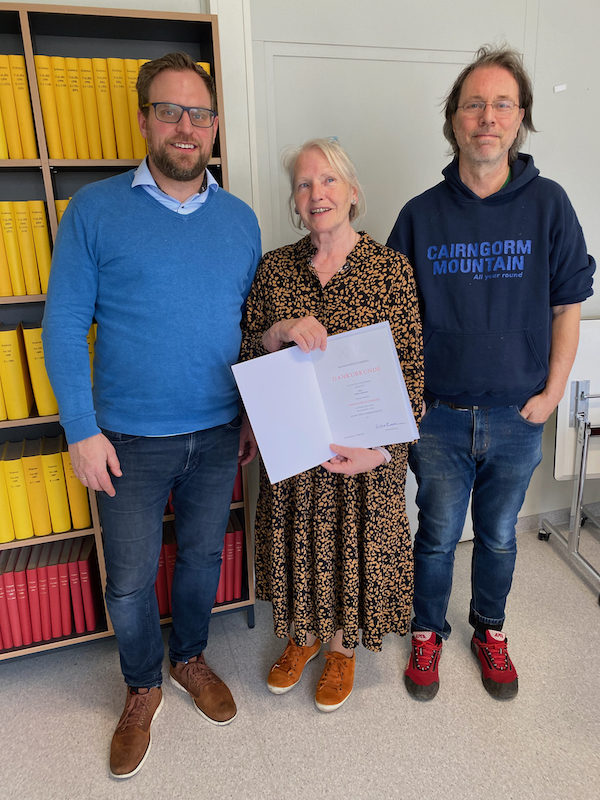 Das Institut für Biologie 3 an der Fakultät für Biologie der Universität Freiburg gratuliert Marita Hermann herzlich zu ihrem 40-jährigen Dienstjubiläum. Frau Hermann ist seit 1980 als technische Assistentin am Institut tätig und hat in dieser Zeit nicht nur unschätzbare Arbeit in verschiedenen Laboren geleistet, sondern auch zahlreiche bedeutende Projekte unterstützt.
Sie hat sich in ihren Dienstjahren ein umfangreiches Fachwissen angeeignet und zeichnet sich durch stets zuverlässige Arbeit und große Kollegialität aus. Insbesondere ihr Engagement und ihre Hingabe zu ihrer Arbeit haben dazu beigetragen, dass sie als unverzichtbarer Teil des Instituts, insbesondere der AG Laux, angesehen wird. Frau Hermann hat sich auch als wertvolle Mentorin für viele Studenten und junge Forscher erwiesen, die von ihrem Wissen und ihrer Erfahrung profitiert haben. Ihr Beitrag zur Ausbildung zukünftiger Wissenschaftler ist von unschätzbarem Wert.
Wir sind sehr dankbar für Frau Hermanns Engagement und Loyalität in all den Jahren und wünschen ihr alles Gute. Wir hoffen, dass sie uns noch einige Jahre als Arbeitskraft erhalten bleibt.
Reinhard Gross wurde pensioniertKarsten Voigt, 29th July 2022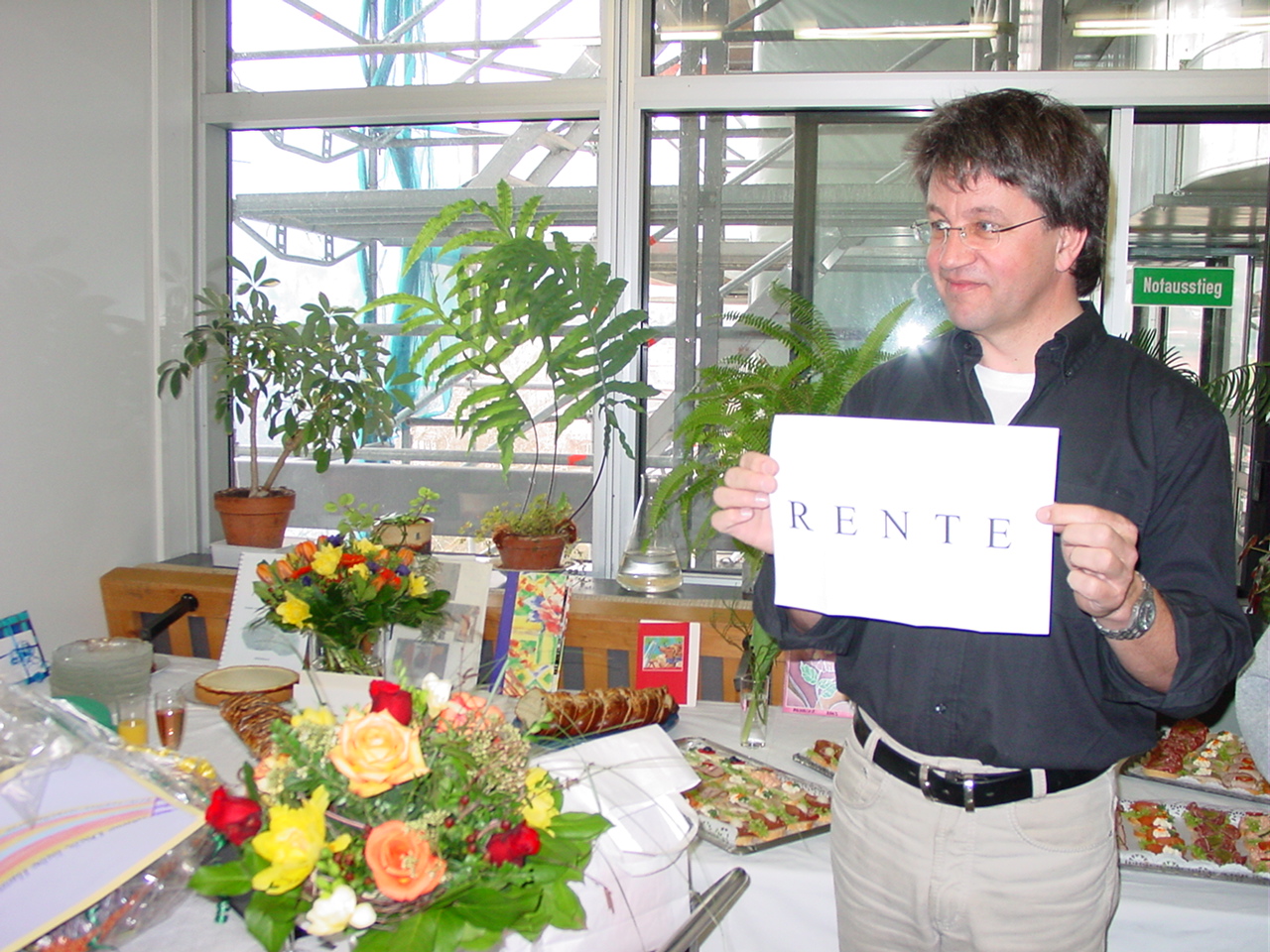 Dr. Reinhard Gross, langjähriger akademischer Leiter  des Instituts für Biologie 3 ging zum Ende des Monats Juli in seinen wohlverdienten Ruhestand.
Nachdem er bereits seine Doktorarbeit an der Fakultät für Biologie angefertigt hatte, wurde Reinhard Gross nach einem längeren Intermezzo in der Industrie im Jahr 1995 zum akademischen Leiter des Instituts berufen. Diese Funktion bekleidete er  27 Jahre lang und hat in dieser Zeit unter anderem  16 Berufungen von Professor*Innen an das Institut begleitet und die Komplett-Sanierung des Hauptgebäudes bei gleichzeitiger Aufrechterhaltung des Betriebs organisiert. Reinhard Gross hat in den letzten Jahrzehnten das Institut maßgeblich mitgestaltet und mit größtem persönlichem Engagement die akademischen Belange des Instituts geleitet.
Deine Mitarbeiter*Innen und Kolleg*Innen wünschen Dir, lieber Reinhard, alles Gute für Deinen neuen Lebensabschnitt. Deine Persönlichkeit, Deine Erfahrung, Dein Einfallsreichtum, Deine Kompetenz, Deine Kollegialität und Deine Expertise werden uns sehr fehlen.
Wir trauern um Rudolf HausmannKarsten Voigt, 11th May 2022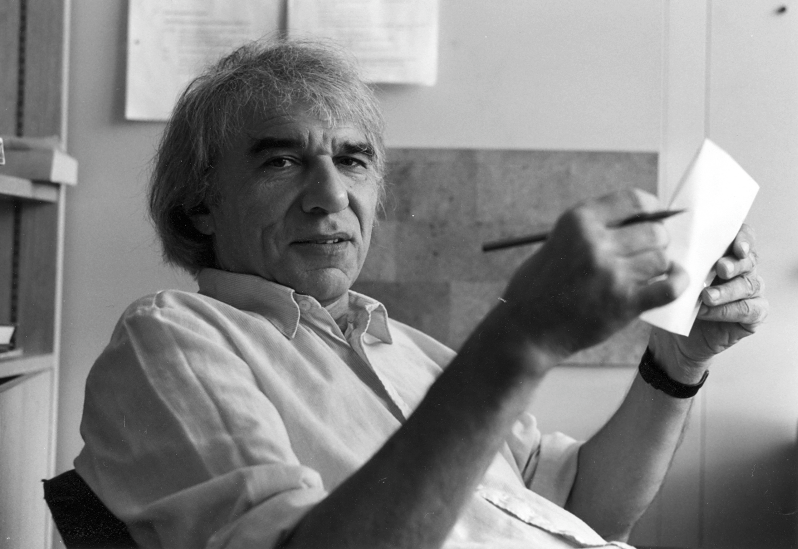 Professor Rudolf "Rudi" Hausmann, Mitbegründer des Instituts für Biologie 3, verstarb am letzten Freitag im Alter von 92 Jahren.
Rudi Hausmann wurde am 25. August 1929 in Schafisheim in der Schweiz geboren. Seine Kindheit und Jugend verbrachte er in Zürich. Anschließend studierte er Medizin an der Universidade Federal do Rio de Janeiro. Nach dem Abschluss des Studiums und Erlangens des Arztdiploms 1955 arbeitete er von 1956 bis 1958 als Assistent am Institut für Genetik der Universität Köln. Nach anschließender Forschungs- und Lehrtätigkeit am Institut für Mikrobiologie der Universität Rio de Janeiro wechselte er 1964 als Post-doctoral Fellow an das Albert Einstein College of Medicine, New York und war von 1965 bis 1967 am Southwest Center of Advanced Studies in Dallas tätig. 1968 kam er an das neu gegründete Institut für Biologie III der Albert-Ludwigs-Universität Freiburg und nahm 1978 den Ruf auf die Professur für Genetik an der Fakultät für Biologie an. Schwerpunkt seiner Forschung war die Genetik der Bakteriophagen (speziell des Bakteriophagen T7), er beschäftigte sich aber auch intensiv mit der Geschichte der Genetik und Molekularbiologie. Vielen Studierenden ist er nicht nur als engagierter Lehrender, sondern auch als Koautor von Carsten Breschs Werk "Klassische und molekulare Genetik" bekannt, das lange Jahre auch international als Standardlehrbuch der Genetik galt. Auch als emeritierter Professor war Rudi Hausmann oftmals im Institut anzutreffen und suchte das fachliche Gespräch mit anderen Forschenden und Mitarbeitenden.
Rudi Hausmann war prägender Gestalter gerade der frühen Jahre des Instituts für Biologie 3 und ist für immer mit der Geschichte des Instituts verbunden.
In stiller Trauer,
Das Kollegium des Instituts für Biologie 3
QnAs with Michael RethKarsten Voigt, 15th May 2021
Michael Reth recently gave an interview to PNAS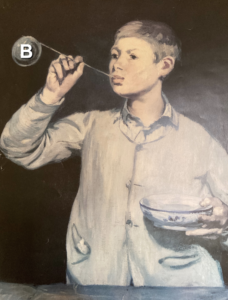 PNAS recently held an interview with Michael Reth about the role of CD20 in B cells which is also subject of his newest publication in the journal.
The QnAs can be found here:
https://doi.org/10.1073/pnas.2102709118
The respective paper can be found on the PNAS website:
https://www.pnas.org/content/118/7/e2021342118
A gene provides both protection and destructionKarsten Voigt, 10th March 2021
Researchers at Freiburg University discover new function of the widely disseminated, yet little understood ENDOU enzyme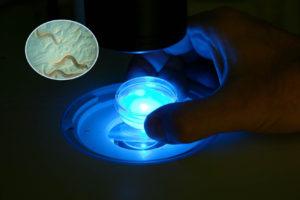 The family of ENDOU enzymes is found in most organisms, yet its functions are only poorly understood. In humans, it has been connected with cancer. RNA viruses, such as SARS-CoV2, contain a gene corresponding to ENDOU, and this is important for virus replication and the suppression of the immune response. However, so far only few details of the role of these enzymes are known. The research group led by the molecular geneticist Dr. Wenjing Qi from the University of Freiburg now contributes some more details to its function in a study published by the renowned scientific journal "Nature Communications". They suggest that the gene ENDU-2 could be responsible for triggering tumors in the body from a distance. In addition, the team discovered a novel, seemingly contradictive response: Under stress, ENDU-2 can contribute both to the protection of the organism and to its destruction.
Show more.
The researchers studied the nematode worm C. elegans, which is frequently used for such genetic investigations. More than 60 percent of the genes are similar in worms and humans, including one for ENDOU, which is called ENDU-2. The current theory of tumor development suggests that cells only become cancer cells when errors, called mutations, accumulate in their genes. These arise, for example, from radiation, certain chemicals, or during aging. Qi showed back in 2017 that such errors do not have to occur in the cancer cells themselves, but they can also arise elsewhere in the body. Cancer is therefore triggered remotely, so to speak. The researcher suspected that the damaged cells in this case send signals to accomplish this, which then reprogram the other tissues. They now discovered the signal for this: ENDU-2.
"ENDOU/ENDU-2 is not only selectively discharged from stressed cells and circulated throughout the body, but it can also bind to the messenger RNA (mRNA) of many genes at the site of origin and in the target cells", Qi explains. These mRNAs are the working copies of genes and are needed as blueprints for the production of all proteins and enzymes. What surprised the researcher was that ENDU-2 can perform two different functions under stress: at the site of origin, it cuts and destroys the mRNA, which reduces metabolism and prevents the already stressed organism from making faulty new proteins. At the destination, the RNA remains intact, and ENDU-2 helps these cells to survive. For this, however, it must be dosed precisely; otherwise it can cause tumor formation.
One conclusion that can be drawn from this could be that the worm specifically protects the embryos, i.e. its offspring, in times of great stress. "In this way, it seems guaranteed that whenever the organism's self-healing powers are not sufficient for mother and child, it at least ensures the survival of the progeny", speculates Prof. Dr. Ralf Baumeister, who was also involved in the study and in whose department Qi leads a research group. The Freiburg scientists now know that the loss of ENDU-2 can also reprogram stem cells. These then lose their immortality within a few generations. Next, the team wants to explore which conditions cause ENDU-2 to distinguish between destruction and protection.
The German Research Foundation is funding the Freiburg scientists' study. In addition, they are cooperating with BIOSS – Centre for Biological Signalling Studies and the Excellence Cluster CIBSS – Centre for Integrative Biological Signalling Studies at the University of Freiburg.
Show less.
Publication
Qi, W., von Gromoff, E.D., Xu, F., Zhao, Q, Yang, W., Pfeifer, W., Maier, W., Long, L., and Baumeister, R. (2021) The secreted endoribonuclease ENDU-2 from the soma protects germline immortality in C. elegans. Nature Communications, DOI: 10.1038/s41467-021-21516-6
Contact
Dr. Wenjing Qi
Institute of Biology III
University of Freiburg
E-Mail: wenjing.qi@biologie.uni-freiburg.de
Prof. Dr. Ralf Baumeister
Institute of Biology III, Center for Biochemistry and Molecular Cell Research
University of Freiburg
E-Mail: ralf.baumeister@biologie.uni-freiburg.de
Delivery Address

Institute of Biology 3
University of Freiburg
Schänzlestraße 1
79104 Freiburg, Germany